Tim Simkins' Website
A little about me...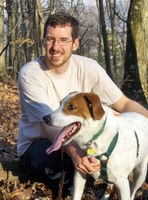 Over the last few years, I've worked in northern New Jersey for a major insurance company in Enterprise Systems Management, a support engineer for a software backup product, and as a web developer for a cable technology company. My wife and I currently live in central Pennsylvania, where I work as a Web Developer for the College of Agricultural Sciences at Penn State.
I graduated from Clarkson University, with a degree in Technical Communications. I majored in Electrical Engineering for two years, but I realized it wasn't me. However, using the knowledge I gained during these two years, I formulated the overall governing equation for all of Electrical Engineering: ELECTRICITY = ZAP!!
My hometown is Coudersport, Pennsylvania. It is in Potter County, in North Central Pennsylvania.
My interests include outdoors activities such as hiking, hunting, cross-country skiing, and shooting. My most recent hobby is my bright red 2005 Ford Mustang GT. I've admittedly never been a Ford fan, but Ford did everything right with the new 2005+ models. The car borrows a number of the design elements from the '64 to '73 Mustangs, and is an absolutely gorgeous vehicle. And fast, too! The engine is rated at 300HP, and I personally ran a 0-60mph in 5.197 seconds with no modifications.
In 2009, I started autocrossing, which consists of running a road cone course as fast as possible, while trying to hit as few cones as possible.
In addition, I enjoy listening to classic rock and country music, along with a little of everything else, and reading authors like Kurt Vonnegut, David Poyer, Gerry Carroll, Michael Crichton, Tom Clancy, Dale Brown and Stephen Coonts. I'll even admit to reading Clive Cussler and Jack Higgins when I don't want to think too much! I'm a big fan of dark beers, such as Yuengling, J.W. Dundee Honey Brown and Killian's Red.
Movies are another one of my hobbies (did I hear someone in the peanut gallery shout "Addiction!"?) Between finding a job after college, and finally jumping on the DVD bandwagon, I've managed to collect quite a few movies. I've cataloged them in my DVD Library with the help of Delicious Library.
I also enjoy photography/graphic design, and I've posted some of my favorites on this site under the Pictures link.
Contact Me:

Best viewed with:

Mozilla Firefox