Tim's Mustang
2005 Mustang GT in Torch Red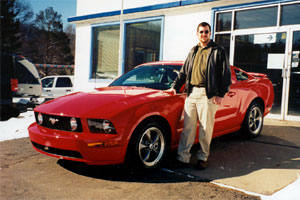 I had always admired the older Mustangs, the '64 - '68 years especially. When Ford came out with the new 2005 Mustang, I really liked what they had done with it. They completely re-worked the chassis, and really went retro with the body. You can see the big open grille, the four headlights, "fastback", the "C" scoop behind the door, and a number of other stylistic similarities to the '60s Mustangs. The GT has a 4.6L 3 valve modular engine, generating 300 horsepower.
The first problem was deciding to buy one! My truck was getting old, and it was about time for a new vehicle. I had been looking at sensible cars, like the Saturn ION, which ran about half the price. Both Kristen and my dad helped me make up my mind. Kristen told me "Your college loans are paid off, we don't have kids, and you don't have any debts. This is the only time you'll be able to do something like this, so go for it!". She regrets those words to this day! My dad was a little more succinct, saying "Everybody does stupid stuff. You might as well get it over with!"
To make a long story short... In February 2005, I went to a Ford dealership in New Jersey and eventually managed to take a test drive. The car had no gas whatsoever in it, since it had just rolled off the truck, so I could only take it for a few laps around the parking lot. Immediately I knew I had to have one! At that point, these cars were really difficult to get your hands on, and the dealer was quoting me $3000 over MSRP, with a 8 week wait. I called around NJ, and the best deal I could find was MSRP, but no lower. Fortunately, I thought to look at the inventory at Kightlinger Motors in Coudersport, and they had one on the lot. It was almost exactly what I was looking for, and I ended up getting it for $400 under MSRP. And I could pick it up in less than a week!

In mid-March 2005, I came back to Coudersport to get the car. Now, of course, the first thing I did after I took possession of the car, even before opening the door, was to apply the Apple logo sticker to the back window. What can I say, some of us have different priorities! The drive back to New Jersey was absolutely awesome. It was a beautiful early spring day, and all I could think about when I was driving down Route 15, just south of Mansfield PA, the road was winding along the side of the mountain, and I felt just like Steve McQueen in the chase scene in Bullitt! I still want to see if I can chase down a Dodge Charger in this car.
The car definitely gets looks, although most memorable was the incident where we were driving down Route 287 in Northern New Jersey. I saw a state trooper in the rear view, and I slowed from 72mph down to 68mph. They wouldn't pull you over for that, right? The cop zooms up behind me, and just about when I start to think I'm in hot water, pulls up on my side of the car, and says "Nice car!" through the loudspeaker. I gave him a grin and a thumbs-up, and he dropped back and took the next exit.