Chrome
Shiny is good, right?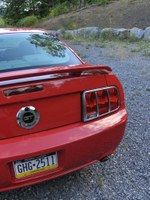 Although I can't stand the big shiny wheels on cars, I do like a little more chrome than came from the factory. For my birthday, Kristen took me to CJ Pony Parts in Harrisburg, and we picked up a few chrome pieces to dress up the exterior.
I put on:
fog light trim
door handles
rear side reflector trim
rear brake light trim
and I think that makes it look a lot sharper! I added some photos of the trip to CJ Pony Parts, and the additional chrome.