Emblems, Shocks, Springs
Modifications for 2007: 1965 GT Emblems, and New Shocks and Springs
1965 GT Emblems

For awhile, I idly contemplated replacing the funky modern "GT" fender emblem on my Mustang with a replica 1965 "GT" emblem. The modern one just didn't look retro enough for me. I saw a picture on a All Ford Mustangs forum where someone had done this, and it looked really sharp! I finally got inspired and ordered the parts.
First, I pulled off the current "GT" emblems using a heat gun and high-test fishing line, and removed the adhesive gunk with Goof-Off. Then, I prepared and installed the 1965 emblems. I've posted the steps I followed for reference.
New Shocks and Springs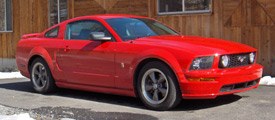 My Mustang project for spring 2007 (aside from the GT emblems!) was to improve the suspension on the car. I added Tokico D-Spec adjustable shocks/struts, and Steeda Sport springs. The shocks/struts are adjustable through a complete range of "firm" to "soft".
The front springs are 50% stiffer than the stock ones. The back ones are comparable to stock, although they're progressive rather than linear. The springs lower the car about 1", and help even up the "high rear end" that's always bugged me.
To compensate for the lowering of the car, I also added a Steeda adjustable panhard bar and brace.
You can read more, and see pictures on the news article I posted.