2008 All Ford Nationals at Carlisle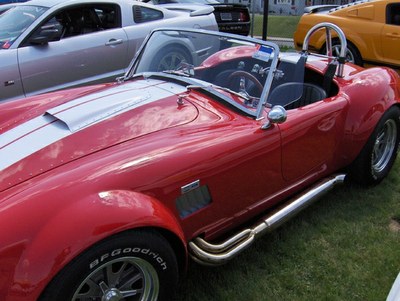 This Saturday Kristen and I went to the All Ford Nationals at Carlisle, and had a great time. It was really hot and humid, but we saw a lot of great cars. The day didn't start out so well, though! After running out to get a cubic yard of topsoil for our garden, I wanted to pull the Mustang out of the garage, and put the truck with the dirt in, so the dirt didn't turn into mud.
I found that the key fob didn't work, so I unlocked the door manually. When I tried to start the engine, I got NOTHING. Not even lights on the instrument panel. We pushed it backwards out of the garage, back down the driveway a little (I had visions of it happily backing into the woods!) and got it jumped.
In any case, I've posted some Carlisle pictures. Not as many as last time, but I got some Bullitts, AC Cobras, GT500s, and some pastel cars (for Nikki!)