Baby's Room
Update on the baby's room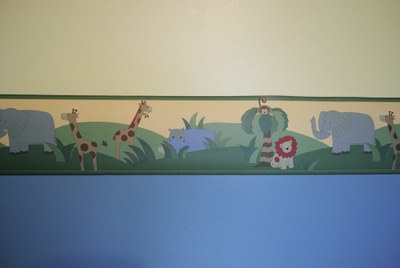 Border and paint
Last weekend Kristen's sister Kelly and our niece Nikki came up to help us paint the baby's room. Previously, we'd had a poorly painted bright colored squares motif. Since we're not finding out if it's a boy or girl, we elected to go with a gender-neutral jungle theme.
Kristen had primed previously to the guest painters arriving, and they did the yellow and blue paint over the weekend. This weekend we put up the border, and it looks really sharp! The picture is a little bright, since I had the 'Vivid' setting on the camera, but you get the idea.
Today we cut and primed the trim for the chalk board. That's going to be the same dark red as the kitchen. We might as well use up the excess paint!